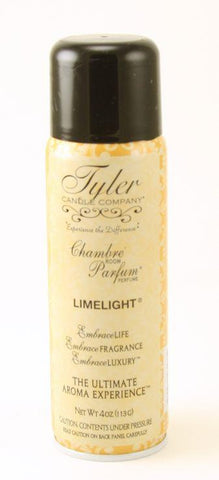 Tyler Candle 43133 Chambre Parfum Room Spray LIMELIGHT - 4oz.
$ 12.50

$ 8.00

Brand Tyler Candle Company

This product is unavailable
LIMELIGHT TYLER 4 oz Chambre Parfum - Room Spray is the new smaller size of Tyler Room Sprays for 2016 and beyond. LIMELIGHT This is an invitingly clean, fresh fusion of pure mandarin oranges with a shocking touch of lime as a top note. A slight undertone of rich vanilla bean oil gives this a unique twist. Seduce your senses with our exquisite Chambre Parfum. With several lavish fragrance bursts, your room will transform into a rich and luxurious paradise! Perfect for fragrancing your dedouir, parlour room, powder room, great room, office, etc. Choose from our many signature fragrances, each giving rapid elegance to your surroundings.