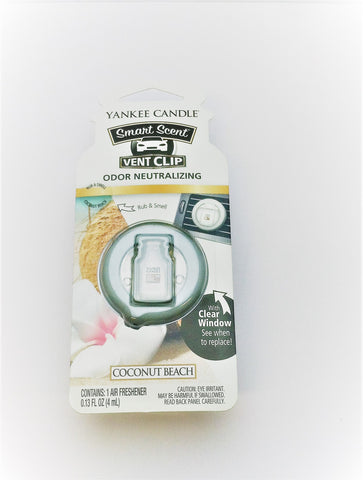 Yankee Candle Coconut Beach Car Vent Clip
$ 13.99

$ 12.18

Brand Yankee Candle
About Smart Scent™ Vent Clips
Give your ride a refresh! Smart Scent™ Vent Clips fasten right onto your car's dashboard vents, so every errand, school pick-up, or commute is filled with your favorite fragrance—up to four weeks for each clip. You'll always know when it's time to replace, as the liquid in the "jar" disappears with use. A helpful tip: The scent diffuses best when the air flowing through the vent is 70 degrees or higher. Want lighter or stronger fragrance? We've included a slider bar so you can adjust the flow. Genius!
About This Fragrance
A taste of the tropics—warm coconut blended with pineapple and Tahitian vanilla.


Fragrance Notes:
Top: Salty Air, Pineapple
Mid: Fresh Coconut, Lei Blossom
Base: Airy Musk, Tahitian Vanilla
Top note is the initial impression of the fragrance, middle note is the main body of the scent and base is its final impression.