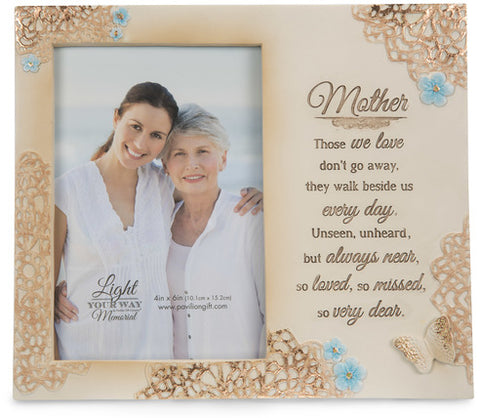 Pavilion 19155 Mother Memorial 4x6 Inch Picture Frame
$ 30.00

$ 25.99

Brand Pavilion Gift Company

This product is unavailable
Mother those we love don't go away, they walk beside us every day. Unseen, unheard, but always near, so loved, so missed, so very dear.
PREMIUM QUALITY: Photo frame, packaged securely in a plain box, is made from glass and polyresin, fits a 4x6 photo, and features an easel stand for displaying.
IN-HOUSE DESIGN: "Mother; Those We Love Don't Go Away, They Walk Beside Us Every Day. Unseen, Unheard, But Always Near, So Loved, So Missed, So Very Dear." text and accompanying floral icons are debossed and painted around the replaceable photo.
PERFECT GIFT: Great for remembering a loved mother who has passed.
CARE INSTRUCTIONS: Dust with a dry cloth, if necessary.