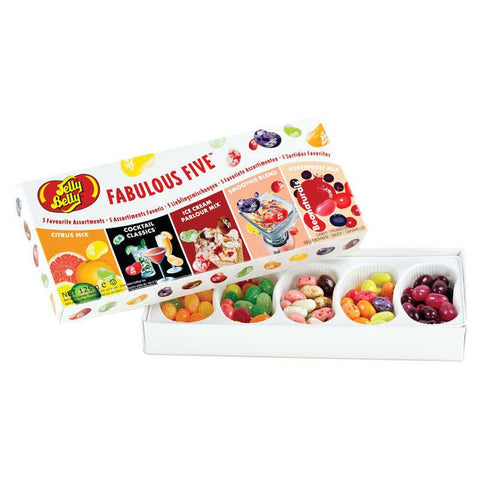 Jelly Belly 64816 Fabulous Five Gift Box (4.25 Oz)
$ 7.99

$ 5.99

Brand Jelly Belly

This product is unavailable
For the first time ever, we've put FIVE of our most delicious and popular mixes in the same box, each in their own pocket so you can enjoy them separately or mix them up. Mixes include:
Sunkist Citrus Mix
Soda Pop Shoppe
Cold Stone Ice Cream Parlor Mix
Smoothie Blend
Cocktail Classics
4.25 oz gift box.
All Jelly Belly jelly beans are OU Kosher, gluten free, peanut free, dairy free, fat free and vegetarian friendly.
Flavors in this Mix
• 7UP
• A&W Cream Soda
• A&W Root Beer
• Apple Pie a la Cold Stone
• Birthday Cake Remix
• Cherry Passion Fruit
• Chocolate Devotion
• Dr Pepper
• Grape Crush
• Sunkist Lemon
• Sunkist Lime
• Our Strawberry Blonde
• Mint Mint Chocolate Chocolate Chip
• Mandarin Orange Mango
• Margarita
• Mixed Berry
• Mojito
• Orange Crush
• Sunkist Orange
• Peach Bellini
• Pineapple Pear
• Sunkist Pink Grapefruit
• Piña Colada
• Pomegranate Cosmo
• Strawberry Banana
• Strawberry Daiquiri
• Sunkist Tangerine